In-person courses for python learners
With us, Master the most popular computer language - Python.
✓ In-person courses to learn Python effectively & efficiently
✓ No more online learning frustration without any help
✓ Learn with us from beginners to practical users
✓ The only Python course provider, solely focusing on Python
✓ Your best choice to learn Python fast at the beginning in Hong Kong
We are experienced in instructing in both enterprises and higher education.
your Beginning into a tech world
You can use a few enticing words and flaunt your capabilities that will attract future clients and encourage them to hire you right away.
Learn how to leverage this powerful language to do all kinds of jobs with our in-person Python courses to make sure your success.
6 reasons to learn python
Python is designed for easy understanding and it reads like plain English.
Learning Python as your first coding language can be the easiest step to get into the Tech World.
Python is like the default language for AI & Analytics as most related tools are in Python.
Python is a general-purpose language, which means that it can be used to build about anything.
Our In-person courses are For all the beginners who want to get into tech world
"Why it doesn't work?", "It's another Error Message and I don't understand…" There are too many pitfalls at the start of learning a programming language. We know how difficult it is to learn Python without any help when you do it completely online, that's why we tailor all of our course in in-person setting to help you pass through the hardest part in your learning journey – the Learning Threshold.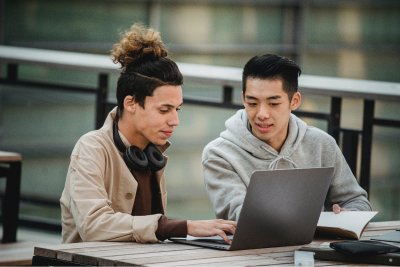 Advantages of Our In-Person Courses
Walk you through the learning threshold
Everybody needs help at the beginning, especially for programming. Our in-person courses are deliberately designed to make your success easy by walking you through the learning threshold.
Learn ➭ Checkpoint ➭ ApplyWe make it engaging
Effective learning is a systematic process. Learn – to absorb new knowledge. Checkpoint – to check if you fully get it. Apply – to ensure you can put it into practice. Engaging learning starts here.
Ask your Questions in class, get clear as you progress
It is not unusual to spend a couple of hours just on solving one little error in Python when you just start learning, and that's really discouraging. That's why we are here in class to answer your questions to make sure you progress.
Walk you through the learning Threshold with us.
Disadvantages of Learning your first programming language online
Kin and LP are experienced data science practitioners with excellent teaching skills. They are able to go through difficult concepts in an easier way... I highly recommend you.
LP & Kin were exceptional... providing such a high-quality class. The sessions were interactive and engaging with knowledge & experience sharing. The content was great and practical. Both LP & Kin are fantastic educators... Thank you!
I benefit a lot from their teaching, since I lacked of motivation to learn it online by myself. They not only provided good knowledge about how to write good programs in Python, they also ignited my interest in programming, making things enjoyable to learn.
masterPython brings you closer to the tech world at the beginning and makes you thrive
We are here to help reduce the obstacles in the Python learning journey and enable everyone to leverage the power of programming.