From beginners to practical users
Learn Python from scratch fast with our help in this 4-week in-person class, complete with the solid programming skills & the capability of creating the automated tasks, and save hundreds of hours struggling to learn by yourself.
Start Date: November 6, 2021
Next course will start in October 2021.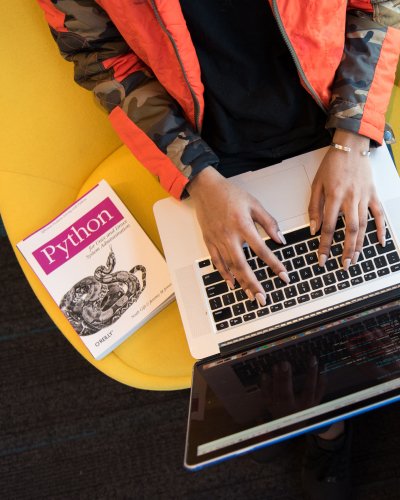 About this In-Person Course
About this In-Person Course
or FPS (Faster Payment System)
Python In-person Course - From Beginners to Practical Users
MasterPython I - Course Content
Master Python I – From Beginners to Practical Users aims to teach you all the core concepts of Python and the popular Python use cases. In this 4-week course (16 hours in total), you will acquire the core Python skills and also 3 practical skills – Web Scraping, Data Analysis & Robotic Process Automation (RPA). You will learn the foundation of programming first, such as Functions & Conditional Execution. Then you will work on a practical project – using Python to crawl the data from some products, analyze their types, prices & popularity, and automatically send the email report on a regular basis.
Python Skills +
Python Environment
Variables, Expressions, & Statements
Functions
Conditional Execution
Loops and Iterations
Data Types
Etc.
Robotic Process Automation (RPA)
Extract and analyze data from your competitors, such as product items, prices
Analyze the data to generate actionable insights, such as precision marketing
Streamline routine operations by programs, such as sending auto-generated reports through emails
Our In-person courses are For all the beginners who want to get into tech world
"Why it doesn't work?", "It's another Error Message and I don't understand…" There are too many pitfalls at the start of learning a programming language. We know how difficult it is to learn Python without any help when you do it completely online, that's why we tailor all of our course in in-person setting to help you pass through the hardest part in your learning journey – the Learning Threshold.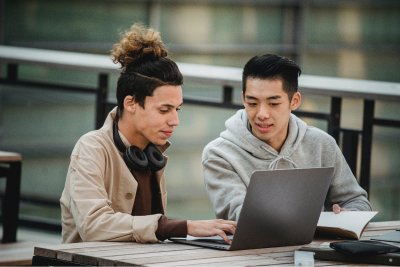 Advantages of Our In-Person Courses
Walk you through the learning threshold
Everybody needs help at the beginning, especially for programming. Our in-person courses are deliberately designed to make your success easy by walking you through the learning threshold.
Learn ➭ Checkpoint ➭ ApplyWe make it engaging
Effective learning is a systematic process. Learn – to absorb new knowledge. Checkpoint – to check if you fully get it. Apply – to ensure you can put it into practice. Engaging learning starts here.
Ask your Questions in class, get clear as you progress
It is not unusual to spend a couple of hours just on solving one little error in Python when you just start learning, and that's really discouraging. That's why we are here in class to answer your questions to make sure you progress.
Walk you through the learning Threshold with us.
Disadvantages of Learning your first programming language online
Kin has been using Python for development and modeling for international enterprises across Asia, Europe & America for years. He is passionate about teaching since a decade ago. 
LP Cheung is an experienced data scientist who used Python to build various scalable machine learning systems and serve millions of users.
If needed, there will be our teaching assistant(s) who is ready to assist you when you are facing any issue during the lesson.
Master Python I is designed to equip you with all the essentials of Python to make you feel confident to use Python in different scenarios.
By the end of the course, you can harness the power of Python to do the automated tasks and run the data analysis in real world scenarios.
*Note: The curriculum is for reference only. The content may have some changes, depending on the teaching situation. Yet the core elements would be kept as the same to ensure the purpose of equipping as a practical Python user.
Session 1: Elements of Python Programming
Start with having a fundamental understanding of Python programming language and getting to know the great power of it.
Session 2: Write you First Program
Further understand the essentials of Python and start to truly leverage the power of programming by writing your first program.
Session 3: Real World Applications of Python
Experience how to automate your jobs and run the data analysis with financial data.
Concepts of Network and HTML
Packages for Web Scraping: BeautifulSoup
Operations of BeautifulSoup
Common Packages in Python Data Analysis
Pandas: Supercharge your Data Analysis
Seaborn & Plotly: Plot Professional Chart in one line of code
In this project, you will utilize the tools you learned in the sessions, including web scraping, data analysis, and automation. You will extract the real data from an online platform, analyze and generate a report, and automate the process by a streamlined analysis pipeline
Your Accomplishment Recognized
You will get a certificate from us after you finished the course. Not only are you encouraged by our recognition formally, but you can also show it to the others to prove your accomplishment and your dedication to mastering Python on your coding journey.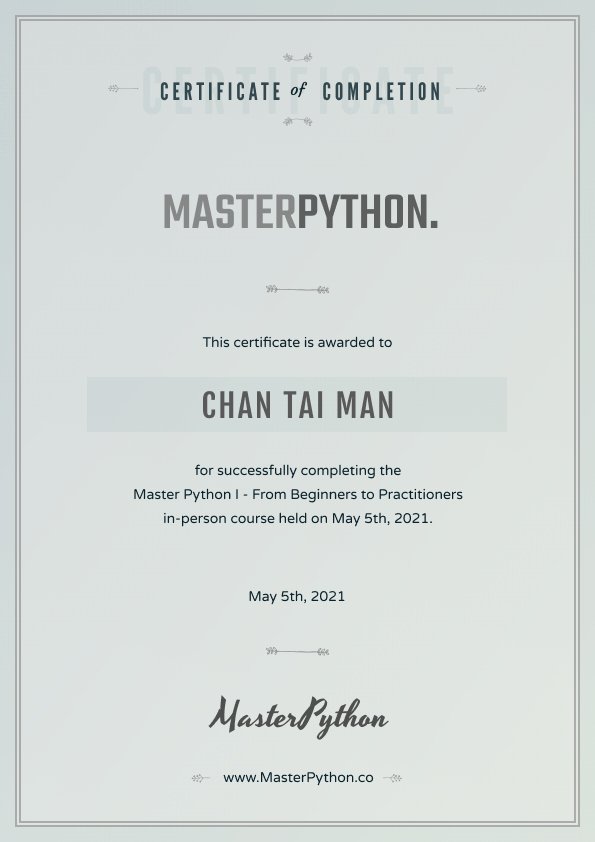 Kin and LP are experienced data science practitioners with excellent teaching skills. They are able to go through difficult concepts in an easier way... I highly recommend you.
LP & Kin were exceptional... providing such a high-quality class. The sessions were interactive and engaging with knowledge & experience sharing. The content was great and practical. Both LP & Kin are fantastic educators... Thank you!
I benefit a lot from their teaching, since I lacked of motivation to learn it online by myself. They not only provided good knowledge about how to write good programs in Python, they also ignited my interest in programming, making things enjoyable to learn.
Frequently Asked Questions (FAQ)
You can pay via FPS (Faster Payment System), Visa Card, Mastercard or Paypal. Our FPS identifier is: 169242617. Please register our course in our course page first before you pay us.
If you use FPS for payment, please follow this instruction:
If you use Paypal or credit cards as the payment, you can skip the above instruction.
Our email is contact@MasterPython.co
If you use FPS for payment, please follow this instruction:
You will get a confirmation email after we successfully received your payment proof (transfer receipt) with your registered name. And our email is contact@MasterPython.co
If you use Paypal or credit cards as the payment, you can skip the above instruction.
Fee paid is not refundable unless the course is cancelled.
After completing Master Python I, you can finish your journey with the second & the last course of From Beginners to Practical Users series –  Master Python II to gear yourself up for future's challenges with more advanced topics of Python in a fast pace with us.
From Beginners To Practical Users​
Master Python II (Coming Soon)
Further develop with the advanced topics in Python and level up to become more competitive.
6 reasons to learn python
Python is designed for easy understanding and it reads like plain English.
Learning Python as your first coding language can be the easiest step to get into the Tech World.
Python is like the default language for AI & Analytics as most related tools are in Python.
Python is a general-purpose language, which means that it can be used to build about anything.
We are experienced in instructing in both enterprises and higher education.